Popularly, music is considered a cure for our souls. Even in ancient times, music was a part of daily life to show feelings and express emotions.
This situation also keeps the same value in esports as all other areas. If some games get a special fame thanks to their music, it is also possible to see worldwide brand agreements between games that are well known in all parts of the world.
In addition, the investments in local esports teams, from well-known names in the music industry, have taken an important place in the esports business. Also, some games have been able to integrate music into their game in an experimental way.
Here we show you our list where we talked about the collaboration between the music industry and the esports business.
Imagine Dragons - League of Legends

Riot Games has proven that they plan to become a global leader by taking advantage of any other industry that offers the possibility of an investment or deal with their games, especially League of Legends.
In 2014, League of Legends planned to make an advertisement for its biggest tournament — one that is loved by everyone around the world. It was the time when the famous American pop-rock group Imagine Dragons and Riot Games made an agreement.
The song "Warriors" by Imagine Dragons was released in September 2014 through the official League of Legends channel. In a short time, the song was able to give goosebumps to all LoL fans with its great lyrics and the magical abilities of all the band members.
The second agreement between Imagine Dragons and Riot Games was made when the Riot Games-owned series Arcane was released in 2021. The band wrote a song called "Enemy" that fans heard in the first episode. This song was also able to evoke the exact same feelings in all League of Legends fans. Congratulations Riot!
Travis Scott - Fortnite

One of the most interesting and experimental events in the history of Esports and games was the concert of American rapper Travis Scott collaborating with Fortnite.
"Astronomical", the latest song by Travis Scott, was about to be released and should be heard by all players in Fortnite on the dates announced by Epic Games on their official website.
According to Epic Games, there were 27.7 million players who participated 45.8 million times during the 5 days that the event took place. These numbers are proof of how well music and Esports can work together.
Drake - 100 Thieves

Since we have talked about all these great events and sponsorships, it is also important to talk about the successful singers who have had a great impact on the music industry and can be found on the global lists of various music companies.
Canadian rapper and singer Drake has also invested in esports. In 2018, he became the co-owner of the prestigious esports team that is more than a team and a lifestyle brand, 100 Thieves.
For a team that was founded a year before Drake became a co-owner, it can be considered one of the biggest successes the esports industry has ever seen. Moreover, this is another short proof that the music industry is also interested in esports.
Offset - FaZe Clan

Another rapper who made an investment for an esports business that  got a name in our list is American rapper Offset, who is mostly known as a member of Migos.
He is also known as a gamer who plays Call of Duty or NBA 2K as a way of relaxation for his famous lifetime. When he was into the esports industry, he was able to found on his own the American professional esports and entertainment organization team FaZe Clan, founded in May 2010.
Offset made his investment on FaZe Clan in 2019 and became one of the rappers from the music industry that got into the esports business.
Pentakill - League of Legends

Riot Games made a virtual heavy band group which includes League of Legends heroes Yorick, Karthus, Mordekaiser, Sona, and Olaf in 2014.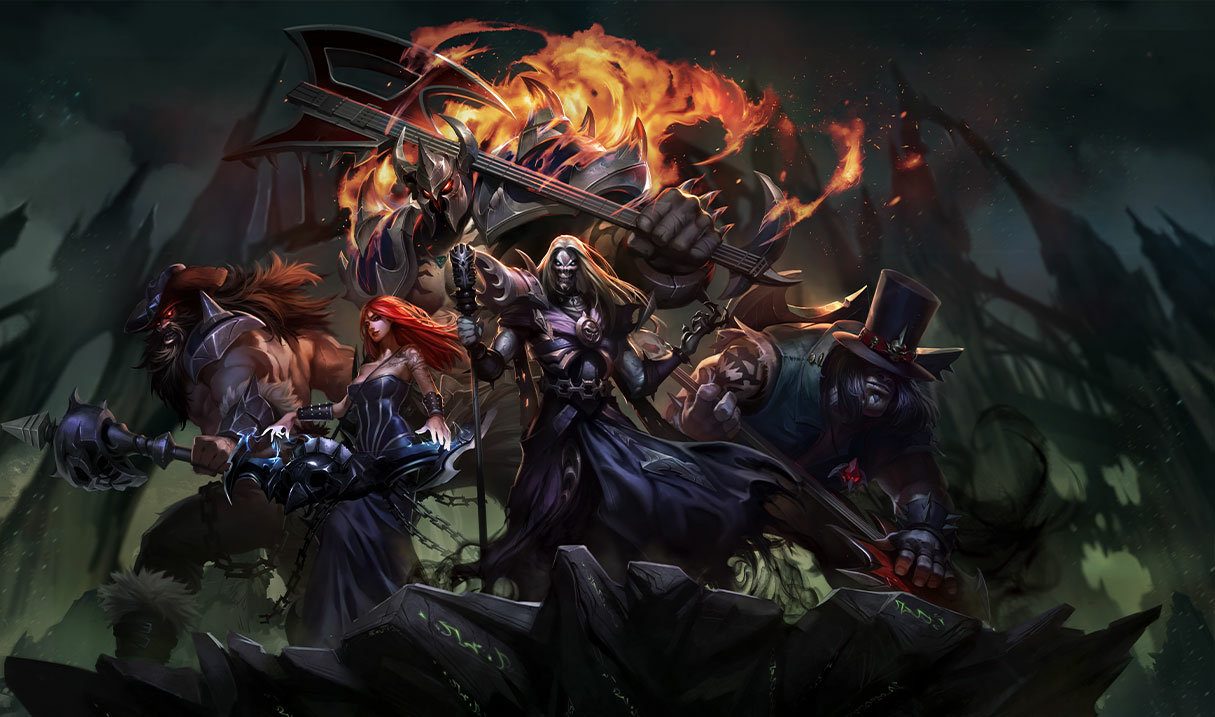 This new and overly hyped group has had huge success in a very short time, and thanks to their second album, Grasp of the Undying, they were able to reach number two on the Itunes chart.
Although the famous group includes names such as Jørn Lande, Noora Louhimo, Per Johansson, Joe Atlan, the band has also worked with different names from time to time.
K/DA - League of Legends

We have already mentioned the collaboration between Imagine Dragons and Riot Games, but this step was not enough for the latter and they managed to create the dream team under the name K/ DA including famous names such as Madison Beer, Bea Miller and some other well-known Kpop singers from South Korea.
The concept for this new group was to form a band with League of Legends heroes Ahri, Akali, Evelynn, and Kai'Sa. This was also a pre-promotion for Worlds 2018, when the virtual band released their first song called Pop/Stars, which went viral in no time.
In addition, Riot Games has also developed special costumes for the game that players can buy with Riot Points.
With the viewership and in-game sales that Riot Games achieved thanks to their viral band project K/ DA, music business and esports once again proved fruitful.
Elite Tauren Chieftain - World of Warcraft

With its short name ETC is a virtual band of World of Warcraft which is created by the employees of Blizzard Entertainment. The Tauren Chieftains and the Elite Tauren Chieftain appear in World of Warcraft as a band with the members from the Horde.
The band is also unique while they upgrade their levels after every major event. Firstly they were level 10, then it became level 60 after BlizzCon 2005, level 70 when the expansion pack of  World of Warcraft: The Burning Crusade released and finally level 80 with the second expansion pack World of Warcraft: Wrath of the Lich King.
Post Malone - Envy Gaming

Like the aforementioned example of Drake, American rapper, singer and songwriter Post Malone aka Austin Richard Post, also made it to our list as he became a co-owner of Envy Gaming.
Post Malone says that he has always played in his own way and since he was born in Texas, it seemed like a great idea for him to invest in his own city team in August 2020. This great collaboration between two Texas celebrities brought the esports business another step forward and gave us a good reminder of the motto "support your local artist."
Every day the esports business takes a step forward and this growth rate is of course further supported by sponsorship deals and great investments. We have no doubt that we will see the names of the music and esports duo together again in the future.
If you want to bet safely on Post Malone's Envy Gaming and Drake's 100 Thieves, Luckbox is waiting for you.