Following the global LoL esports schedule, LPL is also heading to playoffs, with its ninth and last week being played this week. With a lot of teams showing strong performances this year, the playoffs are going to be one of the most competitive ones in history, with only Victory Five standing out, and not by a huge margin.
ThunderTalk Gaming, Team WE and LGD Gaming are out of the playoffs contention officially. There are three playoff spots left: Rare Atom and Bilibili Gaming are a step ahead of other teams. FunPlus Phoenix lost some of their tempo but a two games win streak helped them get back into the race, they will fight with Oh My God for that last spot, probably.
LPL 2022 Spring Week 8 recap
Team WE started by letting down their fans yet another time, with FunPlus Phoenix finding a comeback against them. xiaolaohu's Gwen in the third game was definitely a treat to watch. Following that, EDG once again disappointed their fans, losing against one of the worst teams in the league, Anyone's Legend. Even Viper's amazing Jhin wasn't able to stop Betty's Anyone's Legend.
JD Gaming struck LNG with a shocking 2-0, it was the day of Yagao. Victory Five found a comeback against Bilibili that fielded Uzi. It's nice to see Uzi slowly coming back, but BLG might need to up their games to secure a playoff spot. ThunderTalk Gaming came very close to a win against Ultra Prime, but their efforts weren't enough. Following that, RNG crushed LGD with a clean 2-0.
Team WE without any hope managed to find a win against Invictus Gaming, and because of some of the Covid-19 cases, the second match of the day was postponed, AL vs V5. Coming back from a very poor position at the start of the league, this week, JD Gaming secured a playoff spot by defeating ThunderTalk Gaming 2-0.
Rare Atom found a 2-0 against Ultra Prime, and Top Esports vs Weibo went in a similar fashion, using their momentum during the last few weeks, TES easily outclassed Weibo, defeating them 2-0 with strong plays from each of their laners.
LNG struggled but still managed to find a comeback against LGD Gaming, after a disastrous first game where Ale played 0-6-0 and Tarzan played 1-7-1. Doinb's Karma secured them the 2-1 win. Bilibili Gaming managed to make EDward bleed, however, EDG found another comeback with a 9-0-5 Jinx from Viper, securing them the playoffs.
Rare Atom kept surprising by defeating Weibo Gaming, one of the toughest teams in the league. This 2-0 means that RA are one win away from making the playoffs. Top Esports were overpowered by a weak Invictus Gaming, and this defeat proved that LPL is such a clown fiesta lately. To top that off, the first team to guarantee being out of playoffs, Team WE, stomped RNG two games in a row and defeated them 2-0 in just over an hour.
LPL 2022 Spring Week 9 schedule and betting odds
Check out the schedule for the next week below:
Monday, 14 March
Victory Five vs ThunderTalk Gaming - 10:00 CET
Bilibili Gaming vs Ultra Prime - 12:00 CET
Tuesday, 15 March
FunPlus Phoenix (1.52) vs Invictus Gaming (2.35) - 10:00 CET
EDward Gaming (1.65) vs LNG Esports (2.10) - 12:00 CET
Wednesday, 16 March
Top Esports (1.17) vs Anyone's Legend (4.40) - 10:00 CET
Thursday, 17 March
Rare Atom vs JD Gaming - 10:00 CET
Team WE vs ThunderTalk Gaming - 12:00 CET
Friday, 18 March
Top Esports vs LGD Gaming - 10:00 CET
Weibo Gaming vs Invictus Gaming - 12:00 CET
Saturday, 19 March
RNG vs Ultra Prime - 08:00 CET
EDward Gaming vs Rare Atom - 10:00 CET
FunPlus Phoenix vs Victory Five - 12:00 CET
Sunday, 20 March
Bilibili Gaming vs LGD Gaming - 08:00 CET
Anyone's Legend vs Team WE - 10:00 CET
JD Gaming vs Weibo Gaming - 12:00 CET
Postponed
LNG Esports vs Oh My God - 12:00 CET, March 24
Oh My God vs RNG - TBD, March 25
It's the last week, and the last chance for a lot of the teams to prove themselves and secure a better place. The last few weeks have been such a fiesta, but hopefully it won't continue here and teams will give their 100% before the playoffs to show up strong.
FPX and iG are fighting to get closer to the playoffs race. If iG wins, their chances are still low, but if FPX loses, their not-so-big chances get even slimmer. FPX has a better form and they are a better team, we will see if they can make the playoffs happen. EDG will then fight LNG, both these teams have been slacking off after a great start. Nonetheless, it will be a great series to watch.
Rare Atom will face the rising star JD Gaming to secure a place in the playoffs. If they win, they make the playoffs. JD Gaming will also face Weibo Gaming on Sunday. While WBG's form has been declining, JDG has a four-win streak right now. They have a better chance of winning it considering these facts, but Weibo's strong roster is still what it is, they have the potential to become the Worlds champions if they play their cards right.
Check out the standings before you move on to the matches: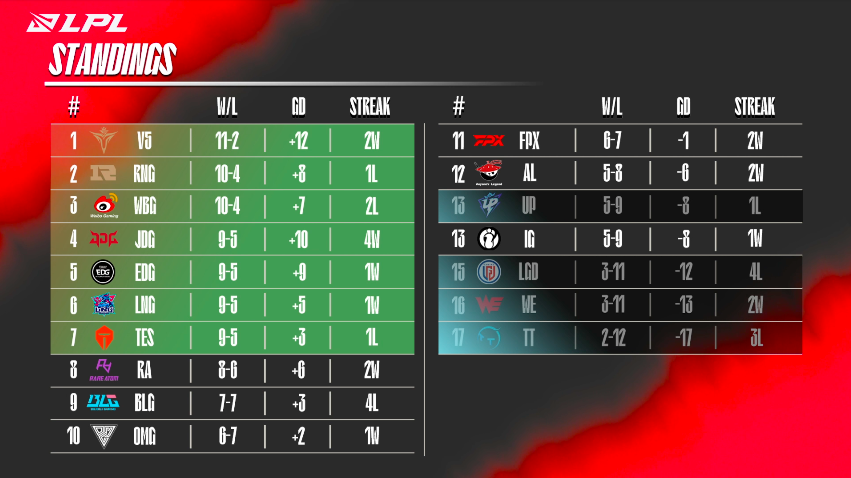 If you are interested in LPL, check out the matches and place your bets on Luckbox.