EDward Gaming and LNG Esports had their first losses, and with a total of four teams leading the league, LPL 2022 Spring is on fire. We are witnessing quite possibly the most competitive season in a long time now, where no particular team could dominate all others as the power is shared between at least five championship contenders right now.
Team WE finally found their first win on the first day of week 5, defeating LGD 2-1. Oh My God keeps their steady performance going with a 5-5 record, trying to stay in the playoffs race. FunPlus Phoenix and Top Esports are also getting closer to top ten, finding themselves a place in the playoffs. There isn't much time left, so if any team wants to get ahead, they need to perform now.
LPL 2022 Spring Week 5 recap
Week 5 started with two mediocre matches, FPX defeated Ultra Prime and Team WE took their first win against LGD Gaming. After these not-so-effective games, JD Gaming finally showed some signs of life by defeating OMG and catching up with the playoffs race. Following that, a big surprise happened.
Using TheShy's twice, with 2-1-6 and 6-1-5 scores, Weibo managed to destroy EDward Gaming 2-0. SofM also played a very good series, but Angel was the man, his 4-0-9 Ryze and 4-0-6 Orianna helped Weibo overthrow EDG as the undefeated leader.
The next day, Top Esports crushed ThunderTalk Gaming 2-0. After that, the highly-anticipated Victory Five vs Royal Never Give Up game was played. For the first time this season, V5 ended the BO3 in two games, defeating RNG with Photic's incredible Zeri performance.
Although they dropped one game, LNG Esports defeated Anyone's Legend on Thursday, and Invictus Gaming surprised everyone by taking down Bilibili 2-1. On Friday, Rare Atom defeated LGD, Weibo easily crushed Ultra Prime, and EDward Gaming saved the week by stomping FPX 2-0.
The weekend's games left no room for surprises. OMG crushed Team WE, and Bilibili did the same to Anyone's Legend. Two underperforming teams, Top Esports and JD Gaming, played a very close series, where TES found the win in three games. They should thank knight for that third game.
Rare Atom came back from 1-0 against ThunderTalk, thanks to iBoy's 6-1-4 Jinx play in the third game which outclassed Puff's 5-2-0 Caitlyn. EDG took their second win of the week against Invictus Gaming on the shoulders of Scout. The match of the week saw LNG fight hard, but RNG managed to comeback from 1-0, thanks to Bin's 9-1-7 Gwen.
LPL 2022 Spring Week 6 schedule
Check out the schedule for the next week below:
Monday, 21 February
Victory Five 2-1 LGD Gaming
Top Esports 2-1 FunPlus Phoenix
Tuesday, 22 February
Royal Never Give Up vs Rare Atom - 10:00 CET
JD Gaming vs Invictus Gaming - 12:00 CET
Wednesday, 23 February
Oh My God vs Ultra Prime - 10:00 CET
Victory Five vs EDward Gaming - 12:00 CET
Thursday, 24 February
Team WE vs Bilibili Gaming - 10:00 CET
LNG Esports vs Weibo Gaming - 12:00 CET
Friday, 25 February
ThunderTalk Gaming vs LGD Gaming - 08:00 CET
Anyone's Legend vs JD Gaming - 10:00 CET
FunPlus Phoenix vs Rare Atom - 12:00 CET
Saturday, 26 February
Team WE vs Ultra Prime - 08:00 CET
Weibo Gaming vs Oh My God - 10:00 CET
Top Esports vs EDward Gaming - 12:00 CET
Sunday, 27 February
ThunderTalk Gaming vs FunPlus Phoenix - 08:00 CET
Bilibili Gaming vs JD Gaming - 10:00 CET
LNG Esports vs Victory Five - 12:00 CET
This week, there seems to be a few important matchups that could impact the playoffs race deeply. However, the first interesting game is JD Gaming vs Invictus Gaming, a match that would be very important last year, but sadly isn't really relevant now. Still, fans of these teams would surely watch this one.
Victory Five will take on EDward Gaming on Wednesday, one of these teams will find their second loss. Rookie is in form, and so is Scout. No matter the result, we are going to witness a banger surely.
A similar match will be played between LNG Esports and Weibo Gaming. With the synergy they have built this year, LNG is one of the rising stars of LPL. However, Weibo has a roster that is strong for two years now, and TheShy finally found his true self here. It's a close one, but it will be yet another incredible match.
You should also keep your eyes on Weibo vs OMG, as OMG might find this opportunity as a chance to finally defeat someone above their level. They should make Weibo struggle. Following that, Top Esports will face EDG. TES finally found a place in top six with their latest win, but EDG is too big of a challenge. Although it isn't impossible, EDG is the favourite here and they should be winning this one.
Bilibili Gaming will face JD Gaming on Sunday, and the LPL stage will be the last game of the week. LNG Esports will face Victory Five. Two teams that have a great form this year will find a chance to outclass the other. As with the other three matches, this one will also be a close one. Doinb won the race in 2019 against Rookie, and since then, this is the best both of them have shown. The question is, can he do that again, or is it Rookie's time now?
You can find the current standings for LPL 2022 Spring below, image courtesy of LPL.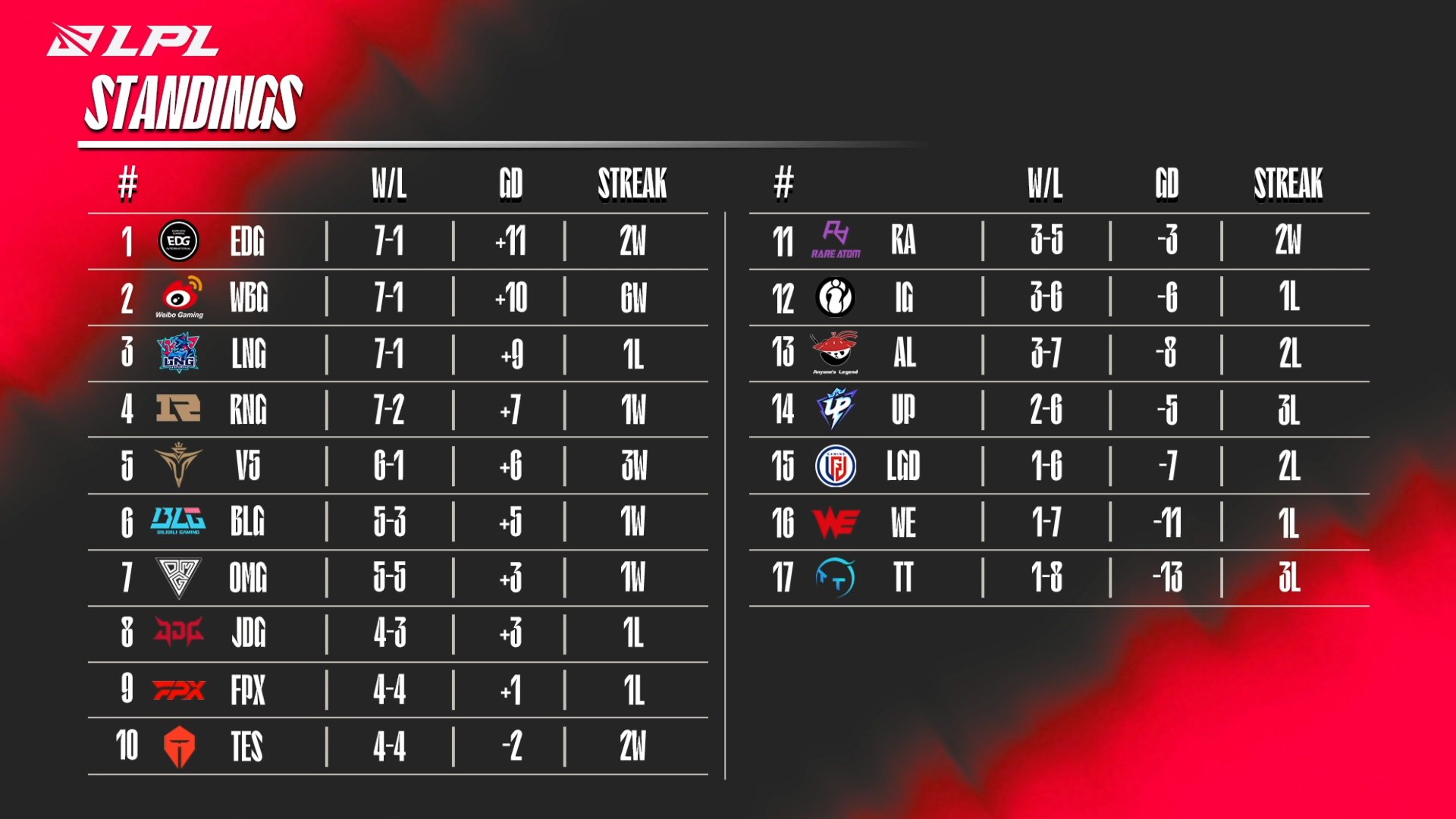 In Week 5, as in all leagues, Gwen and Zeri had a huge impact on the results. If you are able to make use of these champions, you most likely will win. Keep that in mind when you are watching the games or placing your bets on them.
Make sure you watch the games that are mentioned earlier, if you are a League of Legends and LPL fan. If you decide to do it, you can watch them and even place your bets on Luckbox.