Founded by former Call of Duty player Nadeshot, 100 Thieves is now a global lifestyle brand and a gaming organization. They have teams competing in different games but Nadeshot's vision was never to stay as an esports organization only. He created a brand for 100 Thieves, and now, you can see their products being worn by not only esports fans, but also the American youth.
Amongst their investors, they have Drake, Scooter Braun and Dan Gilbert. Also, 100 Thieves' influencer partners like Valkyrae have shares in the team, making them co-owners. They are also affiliated with the Cleveland Cavaliers of the NBA. With their new approach to business and products that found a place in fashion, 100 Thieves quickly rose in popularity, and success in esports followed soon. Let's have a brief look at their history in esports.
100 Thieves' League of Legends branch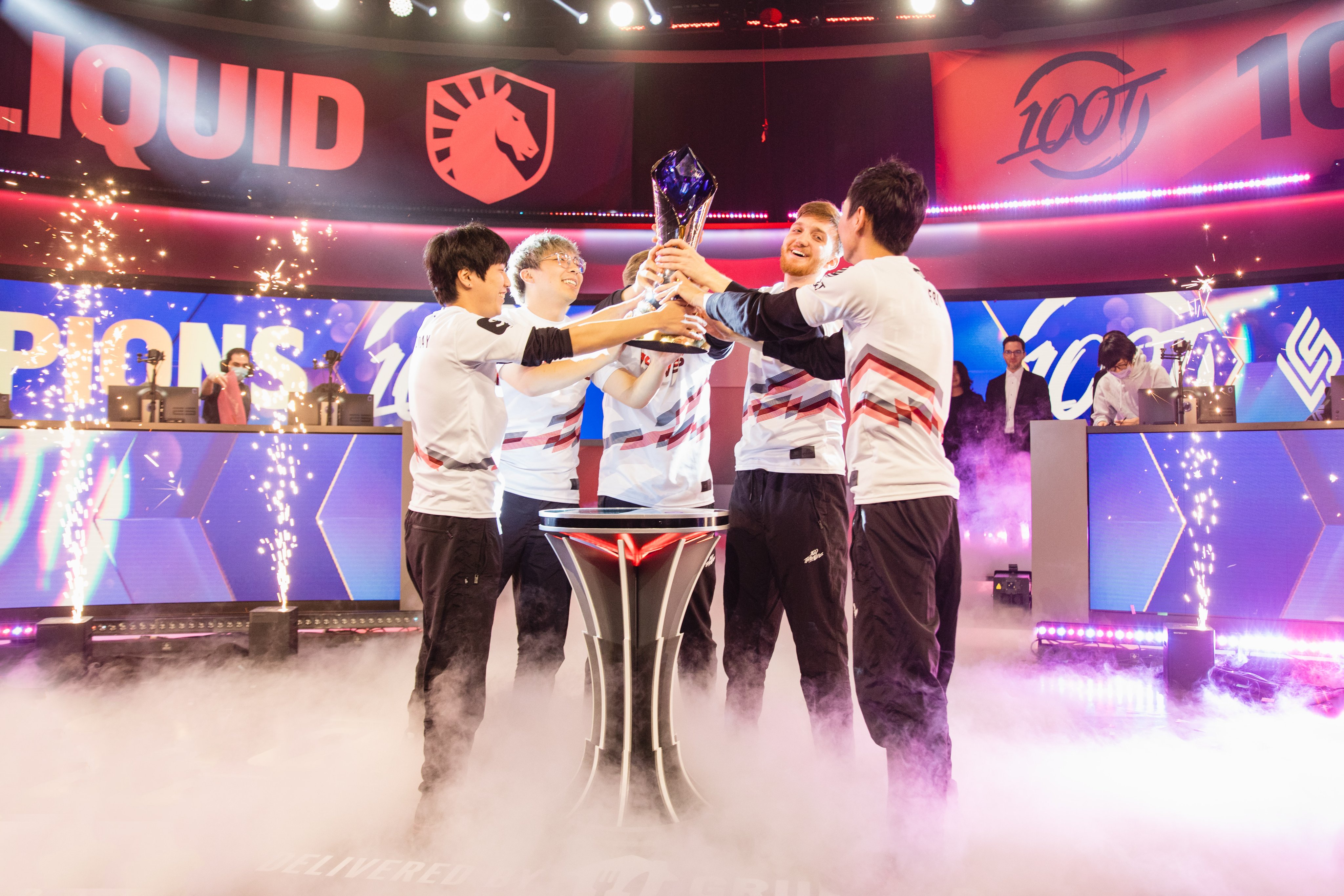 League of Legends team of 100 is one of the oldest and most successful one. The Thieves' got into the LCS as a franchise organization in 2018, with the new LCS structure. Bringing in solid names like Ssumday, 100 Thieves quickly earned a fanbase and played for championship, placing second in spring and fourth in summer, thus making it to the Worlds.
At Worlds 2018, 100 Thieves couldn't fight the bad luck of NA teams, stuck in groups with 2-4. 2019 was a total disaster for them, not being able to create a stable roster and finishing tenth in spring and eighth in summer. Although they had a good run in the 2020 Spring, playoffs did not go well once again, and 100 Thieves fans had to wait for 2021 to see their team rise again.
2021 on the other hand was a great year for the team. In addition to retaining Ssumday, Closer, Damonte, FBI and huhi joined from Golden Guardians. They took fourth place in the Mid-Season Showdown and showed great potential. In Summer, LCS' famous coach Reapered and Abbedagge from LEC joined the team, and after a second place in the regular season, they managed to win LCS 2021 Championship easily with a 3-0 series against TL.
At Worlds 2021, 100 Thieves wasn't able to defeat bad luck once again, but they did manage to take three wins, and showed that 100 Thieves do care about success and achievement on the international stage. Hopefully, they will be able to do more in the upcoming years. In 2021, 100 Thieves won 54 of their 88 games, with the best KDA belonging to Turkish jungler Closer, 4.47.
Other branches of 100 Thieves
100 Thieves owned a Call of Duty team but that team got discontinued after the structural changes. However, they acquired OpTic's slot after 2 years, coming in as LA Thieves. In their first year, LA Thieves placed in the top 8, and they will continue to fight in the 2021/22 season as well.
100 Thieves' academy League of Legends team won NA Academy 2019 Summer Playoffs and LCS Proving Grounds 2021 Summer. They've also consistently placed high since 2019. Amateur team of the 100 Thieves have also been participating in a number of tournaments and showing good performances. They've recently dominated Open Qualifiers and Circuit Qualifiers of LCS Proving Grounds 2022.
The team's VALORANT roster has also been a success. Improving slowly, they've managed to win First Strike North America in 2020. However, their first international tournament was Masters Berlin where they ended up in the 3rd-4th place and made a name for themselves. Everyone was sure that 100 Thieves would win Last Chance Qualifiers and qualify to Champions, but C9 Blue defeated them and ended their season early.
100 Thieves also host Fortnite and Apex Legends teams. The team used to own a CS:GO unit, but citing reasons such as complications with travel, focus on European events and Covid-19, they dropped out of the CS:GO competitive scene.
100 Thieves' success as a lifestyle brand
Releasing their clothing in drops, 100 Thieves not only created a successful brand, but also managed to create a hype around it. They are also purposefully making their brand look premium and create a fear of missing out atmosphere, as most of the time, their products are sold out within the first few minutes of being released.
From their jerseys to everyday products, 100 Thieves clothing has great designs that are purposefully created in the way that you could wear them anywhere. As a former esports player, 100 Thieves' success shows how great Nadeshot's vision is, and it is a story that distinguishes itself from that of Reginald's or HotShotGG's.
If you are a fan of 100 Thieves, you shouldn't miss their games in any esports. Watch their games and place your bets on Luckbox.